San Antonio International Airport has hit the trifecta. In April, SAT experienced growth in passenger traffic, seat capacity and air cargo activity.
More than 737,000 ticketed travelers flew into or out of the North San Antonio terminals in April. That figure represents a 5.4 percent bump over the same month a year ago.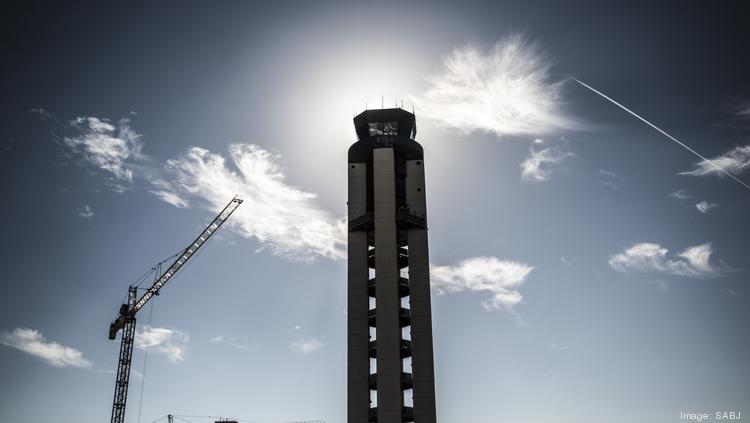 Enlarge
San Antonio International Airport continues to log a record number of passengers flying… more
CARLOS JAVIER SANCHEZ | SABJ
More impressive is the fact the airport has continued to attract larger passenger counts despite some of the disruptions caused by ongoing facility improvements, including work on a roughly $160 million consolidated rental car facility that will connect to both terminals.
San Antonio Aviation Director Russ Handy expects the recent addition of nonstop flights to Toronto via Air Canada, coupled with new service to Mexico City, Guadalajara and Cancun, will continue to drive up activity at SAT.
San Antonio Tourism Council President Marco Barros, who is in a runoff for the District 9 City Council seat, said the added international service is critical.
"It opens up and connects us with the rest of the world," Barros told me.
SAT's extra busy April follows a first quarter in which the airport attracted more than 2 million passengers. That was the largest first-quarter traffic count on record for the Alamo City facility.
In fact, SAT has now set new passenger records for 10 consecutive months. That could drive more debate about the city's future airport needs.
A good deal of credit for the new flights and increased passenger activity goes to Brian Pratte, air services administrator for the city. He's worked to identify airlines open to expanding service to and from San Antonio.
Previously, San Antonio officials relied on assistance from outside consultants to help navigate the pursuit of airlines and flights.
Barros said San Antonio is directly benefiting from having someone in Pratt's role who can get Handy the timely intel he needs to "analyze the data" as airport officials continue to fine-tune their game plan.